The novel coronavirus has infected close to 93,000 people in 65 countries and killed 3,202 people. On Wednesday, six new people were found infected with the virus. This is in addition to one suspected case and two confirmed cases found a day earlier.
What is the novel coronavirus?
Coronaviruses are a large family of viruses that cause illness ranging from the common cold to more severe diseases. The novel coronavirus is a new strain earlier not recognised in humans. The virus can be transmitted between humans and animals.
What are the symptoms of coronavirus?
Common signs of COVID-19 infection include respiratory symptoms, fever, dry cough and shortness of breath. Some patients may have aches and pains, nasal congestion, runny nose, sore throat or diarrhoea. Older people, and those with underlying medical problems like high blood pressure, heart problems or diabetes, are more likely to develop serious illness. In more severe cases, infection can cause pneumonia, severe acute respiratory syndrome, kidney failure and even death.
How does coronavirus spread?
The infection can be spread from people who have the virus. The disease can spread from droplets of the nose or mouth and are spread when an infected person coughs or exhales. When the droplets come in contact with others and they touch their mouth or eyes or nose, the infection spreads. People can also catch the virus if they breathe in droplets from a person with COVID-19 who coughs or exhales droplets. World Health Organisation says studies suggest that the virus that causes COVID-19 is mainly transmitted through contact with respiratory droplets rather than through the air.
What to do to prevent getting infected?
How can you detect coronavirus?
The incubation period ranges from 1-14 days, most commonly around five days. After early symptoms appear, there are three rounds of tests that need to be done to confirm if someone is infected. They are then kept in isolation.
What is the cure for coronavirus?
There are no vaccines and no specific medicines to prevent or treat coronavirus. However, hospitalisation and care is very important for recovery. Possible vaccines and some specific drug treatments are under investigation. They are being tested through clinical trials.
All countries are taking preventive measures to control the disease and working closely with health experts to contain it. As research continues on the disease, its advisable to not panic and not pay heed to rumours about the virus.
Here is a list of do's and don'ts for coronavirus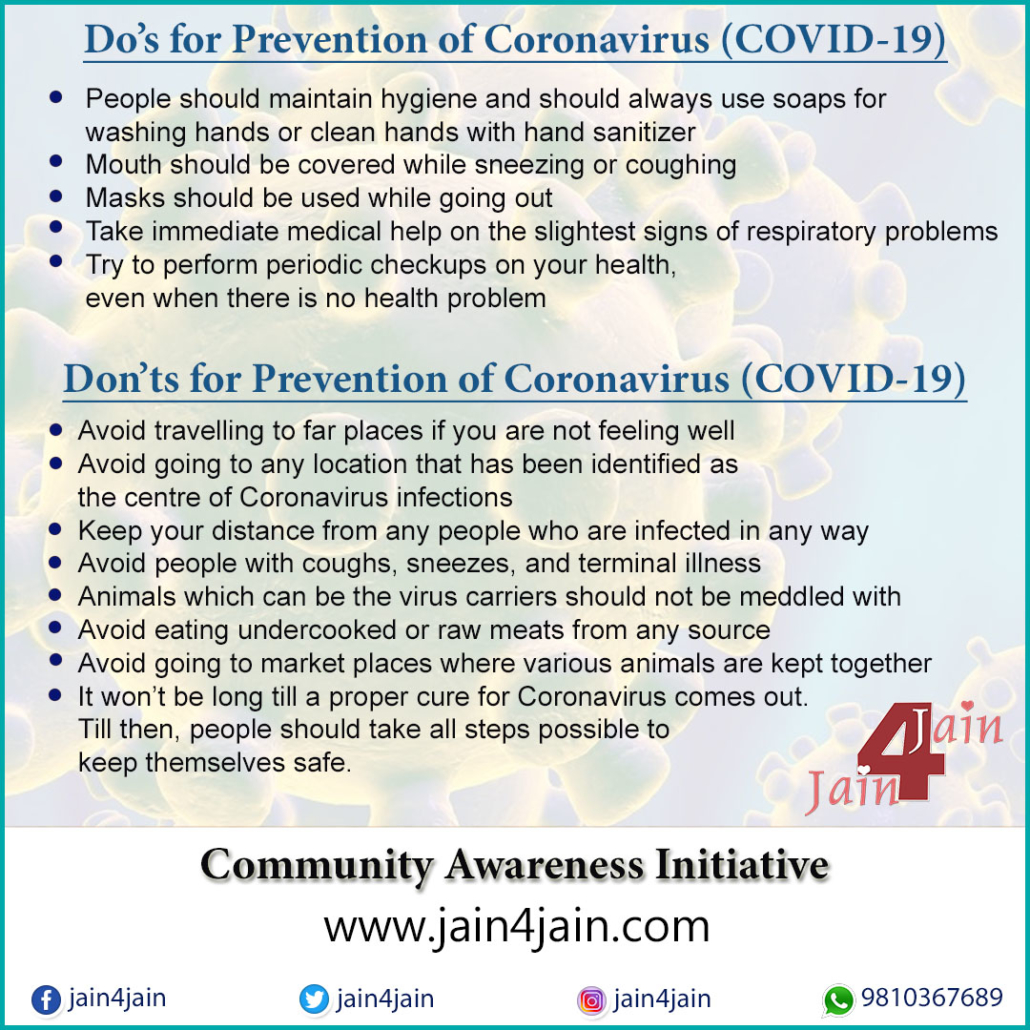 Do's for Prevention of Coronavirus (COVID-19)
Don'ts for Prevention of Coronavirus (COVID-19)
It won't be long till a proper cure for Coronavirus comes out. Till then, senior people should take all steps possible to keep themselves safe.
https://www.jain4jain.com/blog/wp-content/uploads/2020/03/20200314-coronavirus.jpg
321
845
superuser
https://www.jain4jain.com/blog/wp-content/uploads/2020/02/jain4jain-logo.png
superuser
2020-03-13 11:55:24
2020-03-14 06:08:54
Coronavirus Do's And Don'ts: What You Need To Know To Protect Your Family